Just four days after both Republican and Democrat party operatives met with some of the most powerful tech giants in

the world

to discuss ways in which to destroy

the Donald

Trump campaign, the New York billionaire is taking incoming from all sides including a second-tier reporter claiming she was grabbed by Trump's campaign manager following a press conference, a participant at a Trump rally was filmed punching a (much larger and younger) black protester, and now today, a swarm of protesters in Chicago led to a Trump campaign rally being cancelled for security reasons.
Is it all just a remarkable coincidence?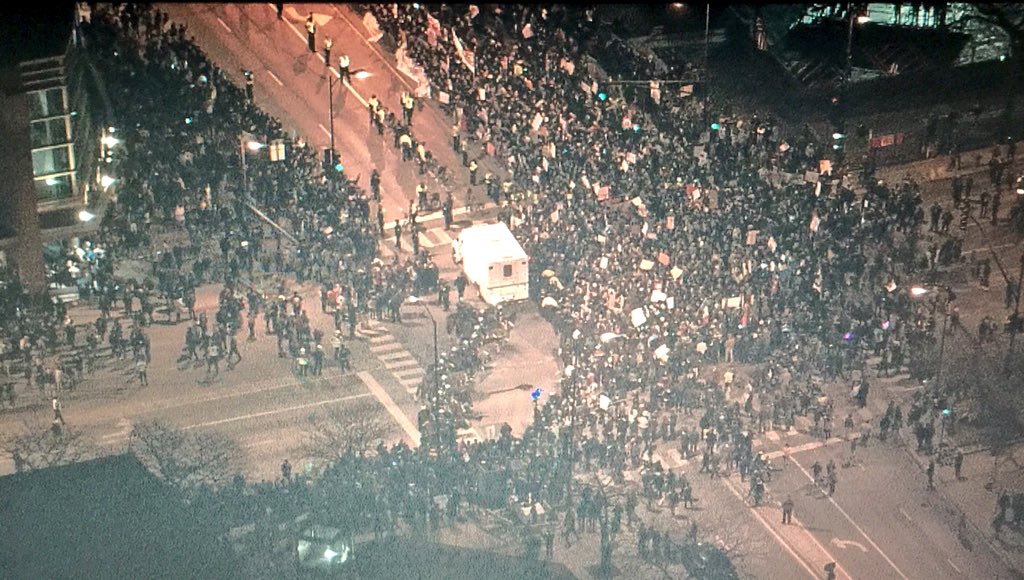 ABOVE: When Trump supporters left the venue, they found themselves being surrounded by a growing mob outside. Some pushing and shoving predictably ensued – and the media breathlessly exclaimed how it was the result of Donald Trump's campaign rhetoric.
Within minutes, this same mob began to mobilize against Chicago police as well and as of this writing, riots are now being deemed a real threat to the city.
Now to the earlier secret meeting report. Check out this excerpt from four days earlier:
"Check out this partial list of attendees to the closed-door, no press allowed meetup:
"Check out this partial list of attendees to the closed-door, no press allowed meetup:
Apple CEO Tim Cook, Google founder Larry Page, Facebook investor, Sean Parker, Senate Majority Leader Mitch McConnell (R-Ky.), political guru Karl Rove, House Speaker Paul Ryan, GOP billionaire donor Philip Anschutz, and Democratic Rep. John Delaney.
Topic #1 according to various reports, is the destruction of the Donald Trump campaign."
This week some two thousand of the world's most notable economic, political, and media leaders are meeting within the sprawling winter resort sanctuary of Davos, Switzerland. The primary topic on the mouths of those who are attending isn't Middle East unrest, China's fiscal challenges, falling oil prices, or even a plummeting U.S. stock market, but rather one Donald J. Trump.
These men and women whose far-reaching influence and wealth depends so much upon a world that runs at their discretion, see Donald Trump as the greatest potential disruption to the current global dynamic they have worked so diligently to maintain.
And they don't like it – not one bit.
Regardless of whether you support Donald Trump or not, it has become indisputable that the anti-Trump effort is an unprecedented act in the era of modern politics. Of all the GOP candidates currently still in the Republican primary race, only Trump causes such alarm among the established powers both inside and outside of Washington D.C.
The above report mirrors a much earlier D.C. Whisper exclusive which, at the time, many readers chose to dismiss. Given the most recent developments in Sea Island, those initially dismissive readers would do well to learn that if you want the political news before it's news, D.C. Whispers is a must-have source to do so.
And if you start to see an even greater uptick in anti-Trump stories in your newsfeed, the above information is likely the reason why.
The mob in Chicago was a mobilized event. No further evidence of that fact is needed than this photo of one of its creators, domestic terrorist, and longtime Barack Obama mentor (and alleged co-author of Mr. Obama's bestselling autobiography) Bill Ayers:
Ayers is among the most connected of all Chicago mob operatives. The people who showed up to halt the Trump rally were put on alert via a coordinated social media campaign that likely involved Ayers and some of the names from the secret meeting report days earlier.
In related news, Michelle Fields, the woman who has now filed
charges
against Trump campaign manager Corey Lewandowski, is being told by her own employer, Breitbart News, that she is suffering from a case of mistaken identity:
"New video of Donald Trump's press conference Tuesday evening shows that the Washington Post's account of an altercation involving Breitbart News reporter Michelle Fields could not possibly have happened as Ben Terris reported."
Brietbart appears to implicate a Secret Service agent in the alleged grabbing of Michelle Fields' arm. (She was standing in an area that had already been cleared by Secret Service and approached Donald Trump in a somewhat aggressive manner.)
So, in essence, Michelle Field's own boss is saying she has her own story wrong.
As for the 78-year old gentleman who did not take kindly to a young black man shouting obscenities holding up his middle fingers at Trump supporters while being escorted from the rally, he will be charged as he should. But of the hundreds of thousands of people who have attended multiple Donald Trump rallies, this is a singular event, and far from the norm, and yet, the media is now attacking Mr. Trump for his "tone" somehow being responsible for the actions of an elderly man taking offense at the obscenity-laced tirade of a much younger man who came to the event for the sole purpose of creating conflict.
Video
of that
altercation
follows:
How remarkable to have such a coordinated theme in opposition to Donald Trump mere days after some of the most powerful figures in politics and the media met to discuss that very topic.